Klondike's Journey with Hip Dysplasia
My Journey With Hip Dysplasia
I am only a baby but I have been Diagnosed with Moderate Hip Dysplasia by the Orthopedic Foundation For Animals (OFA). It is hard for me sometimes, because I want to play and run like all of the other dogs I see, but sometimes I just can't. Mommy said she is very impressed with me because I know how to limit my self so I don't overdue it, although she does have to step in occsionally so I don't get hurt. I get mad at her sometimes, but I know she only does it because she loves me so much.
I feel it is very important to share my story with others so they know what to look for when purchasing a puppy. It is very easy to fall in love with that precious puppy face, and act on impulse. A puppy should NEVER be an impulse purchase. Much research should be done, starting with learning about the breed you are interested in, and matching breed characteristics to you and your home life, activity level, etc. Many pups that are purchased without prior research being done usually end up in shelters, only because the dog did not fit the family's lifestyle when it wasn't a cute fuzzy puppy anymore.
Many people tell me that I am very lucky to have a Mommy who cares so much about me. That makes me feel really special!
While you are visiting, I will tell you my story, share my symptoms, and hopefully help my breed in general by spreading the word about Hip Dysplasia. I will keep you posted on my progress as I become fully grown. My Mommy told me that I go to the bestest Veterinarian she has ever met, so she is confident that he will help us manage what lies ahead in the years to come. I would like to personally thank him by giving him big Woo Woo's when I go in for my next check up, which is coming up very soon! Thank You so much Dr. Bumstead! We love you very much!
Thank you for reading my story.
Please see my BLOG for updates on me!
Check out my hip xrays and a normal hip xray.
Below is a picture of what a Normal Hip should look like. courtesy of www.petcenter.com Thank You Dr. Dunn.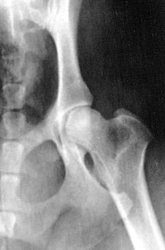 *****NOTICE TO POTENTIAL PUPPY BUYERS*****
Please only purchase pups from a breeder who is willing to have the Sire and Dam xrayed, viewed, and rated by OFA. There is NEVER a guarantee that your dog will be free of Hip Dysplasia for life, even if both parents are rated Excellent, Good, or Fair, but you will drastically lessen the chance of problems with parents who were cleared by OFA. WHY TAKE THE CHANCE???
DON'T ACCEPT EXCUSES FROM ANY BREEDER
Never consider purchasing from a breeder who tells you that they did not conduct testing prior to breeding their dogs for a good reason. Some of these reasons you may hear are:
1. The Sire and/or Dam were not old enough at the time of breeding to become OFA certified. If this is the case, the breeder could have done what is called a Preliminary Consultation Report. This can be done very early in the dog's life, and statistics show that Preliminary OFA is very reliable in diagnosing hip laxity. The dog must be one year of age to qualify for published results on the website. See www.offa.org for more information. A PennHip Evaluation can be done at 16 weeks of age and older. See www.pennhip.org for more information.
2. My breeding dogs do not show any signs of Hip Dysplasia, and it is expensive, so why should I waste time and money? It is a fact that many dogs do not exhibit symptoms of Hip Dysplasia until their later years in life. During breeding years, symptoms may not yet be present, until it is too late. Xrays could have proven otherwise if they were tested before breeding, sparing a lot of heartache in the long run. I had Klondike's Hips and Elbows xrayed and sent out to OFA for a Preliminary Evaluation. The xrays, with exam and sedative came to just over $300.00 and I was charged a fee of $35.00 for the OFA report. In my opinion this is a small price to pay for peace of mind for both the breeder and potential puppy buyers.
Most importantly, be sure you feel 100% confident with the breeder you choose. Be sure you have checked the backgrounds of the parents of the litter. Always get references and ask to speak to the breeder's Veterinarian. Also remember that even the most reputable breeders may have come across problems at one time or another. This doesn't mean they are poor breeders. If they are honest about issues in the past, and have learned from those issues, chances are they have bettered their breeding program. This is why references are so important.
OFA Xrays for Klondike taken just after one year of age. This is what is considered Moderate Hip Dysplasia.
Here is a link to Klondike's OFA report:
http://offa.org/display.html?appnum=1281391#animal