GREAT INFO REGARDING HIP DYSPLASIA
The links below will send you to some great sites that fully explain Hip Dysplasia as well as Symptoms, Treatments, and Prevention, but first, a few words about Klondike and her Hip Dysplasia
I have had Large Breed Dogs ever since growing up as a child. Klondike is the first dog that I have owned to be diagnosed with Hip Dysplasia. I fear for her future, but we are not going to lie down and take it. I am trying to learn all that I can about this disorder so I can provide my girl with the best care possible. I want to do anything and everything possible to give her the healthy and happy life that she so deserves. Klondike has given me so much in the short time that I have been her Mom. Most of the time you wouldn't know that there is anything wrong with her, while other times you can tell that she has issues. Her activity level is usually that of a much older dog, as she does limit herself during play. Her favorite thing to do is play with her brother and sister, especially if they are playing tug with a toy. When they do this, Klondike automatically goes to sit on her bed before she will respond to a game of tug with the other dogs. She gets a good seating and then pulls that toy with no mercy. She will not do this in a standing position. The funny thing is that the other dogs will wait for her to get positioned properly. I think they know of Klondike's limitations and understand that she has to play this way so she doesn't hurt herself. They must sense something is wrong because they are extra gentle with Klondike. It is amazing to watch all three of them communicate and I am greatful that they understand her special needs.
Here are some great educational HD websites
The OFA is guided by the following four specific objectives:
To collate and disseminate information concerning orthopedic and genetic diseases of animals.
To advise, encourage and establish control programs to lower incidence of orthopedic & genetic diseases.
To encourage and finance research in orthopedic and genetic disease in animals.
To receive funds and make grants to carry out these objectives.
* Taken from OFA website, linked above
PennHIP stands for the University of Pennsylvania Hip Improvement Program.
To summarize, PennHIP is composed of three major components
- A diagnostic radiographic technique
-A network of trained veterinarians
-A medical database for scientific analysis
*Taken from Penn Hip website linked above
THE PET CENTER has loads of useful information regarding Hip Dysplasia in Canines. This website also contains many pictures of various degrees of Hip Dysplasia as well as normal hips.
This website has so much wonderful information regarding Hip Dysplasia including Development, Breeding, Clinical Symptoms, Environmental Influences, Diagnosis, Treatment, and Prevention.
This website was given to me by a memeber on a Malamute forum I frequent. This site has so much wonderful educational information about Hip Dysplasia and other health issues related to the Malamute breed. This is a must read!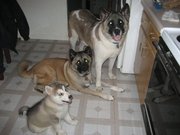 Search Engines
You know us as the Internet's original search engine.
One of the most visited hubs on the Internet, reaching one out of every two Web users.
With over half a million sites, divided into more than 25,000 categories, Yahoo! is both browseable and searchable.
GO Network is a new brand that brings together the very best of the Internet in one, easy-to-use place.
Have Fun!